Healthy Homes
The average person spends a majority of their time inside their home. Therefore, it is important that your home environment is safe and healthy for everyone living in it. Characteristics of a healthy home include clean air, water, and food, a safe physical environment, a lack of pests, and protection from toxic household products. This page was designed to help educate and provide resources to you about how to make your home a healthy home.
Please note the department receives several complaints a year in regards to various housing conditions in rental properties such as mold. Unfortunately the department has no jurisdiction in residential homes or apartments. You may want to see legal advice for renters in these cases.
Click here to do a Healthy Homes Assessment of your home. This service is provided by the City of Fort Collins and will generate a list of recommendations to help guide you to a safer and healthier home environment.
Click here for healthy home guides from the Environmental Work Group. These guides outline best practices to keep you healthy for virtually every part of your home.
Regular maintenance and repairs of your home are essential to keeping your home a safe environment. Use these checklists provided by the National Center for Healthy Housing (NCHH) to help you maintain a safe and healthy home.
Healthy Homes Maintenance Checklist (English)
Healthy Homes Maintenance Checklist (Spanish)
Costs for Creating a Healthier Home
The quality of the air inside your home has a significant effect on your health. Indoor air quality can be 5 times worse than outdoor air quality. Contaminants of concern in household air include radon, carbon monoxide, allergens, particulate matter, and volatile organic compounds (VOCs). Exposure to these contaminants can cause a number of short-term and long-term health effects, including respiratory issues, headaches, dizziness, itchy eyes and nose, reduced cognitive function, heart disease, cancer, and in serious cases, death. Some air contaminants like radon and carbon monoxide are colorless, odorless, and tasteless, meaning they could be in your home and affecting your health without you even knowing. With these contaminants, testing, detectors, and mitigation are the only way to know you aren't being exposed. Click on the header above to learn more about indoor air quality.
Click here for more information about indoor air quality in your home.
Click here for an interactive tour of the indoor air quality demo house from the EPA.
Tips to improve air quality in your home:
1. Open windows as often as possible to ventilate your home.
2. Use non-toxic cleaning products.
3. Run exhaust fans while showering and cooking to reduce moisture and air contaminant exposure. Mold grows in moist environments like bathrooms and kitchens.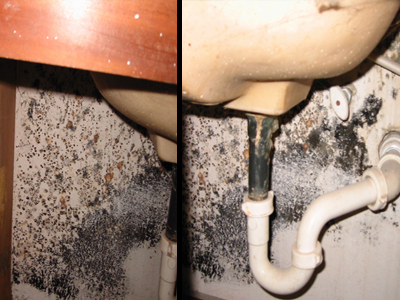 4. Seal leaks in pipes, windows, and building materials.
5. Use a commercial-grade doormat to capture soil and particles on your shoes. Don't wear outdoor shoes inside.
6. Regularly clean dryer and heating vents and your chimney.
7. Test your home for radon and do mitigation if your radon levels are high.
Access to safe drinking water is fundamental to living a healthy life. Residents of Grand County get their drinking water from either a public water system or a private well. Public water systems treat and routinely monitor the quality of the water they distribute to make sure it is safe for people to consume. Public water systems often provide Consumer Confidence Reports (CCR) to their customers which are annual reports about the quality of the water they provide. These reports can be obtained by going to your public water provider's website or by submitting a request to them. In rare cases, your public water provider may send out a public notice of a water quality violation if testing indicates that the water they are distributing is contaminated with bacteria or high levels of a contaminant. If you receive a public notice of violation, follow all instructions given to you with the notice and contact the public water system if you have any questions.
Grand County has a large number of homes on private wells, which are not monitored or treated by an agency. It is the homeowners responsibility to test and treat their private well water. The EPA recommends testing your well water annually to ensure you are getting clean and safe drinking water in your home.
Many homes in Grand County utilize septic systems for their wastewater disposal. Proper operation, maintenance, and repair of your septic system is important to protecting the health and safety of you and your home. Click here for more information about care and maintenance of your septic system.
Click the water quality header above for more information about drinking water, septic systems, and how to test your well.
The Grand County Environmental Health Department routinely inspects retail food establishments and grocery stores in the county in an effort to protect your health when you go out to eat or shop for food. When cooking at home though, food safety is up to you! Click the header above to learn more about how to safely store and prepare food in your home and for an up-to-date list of recalls by the FDA.
Common pests found in Colorado homes include mice, rats, bats, bed bugs, mosquitoes, ants, spiders, cockroaches, and beetles. Exposure to these pests can cause health issues as minor as itchy skin and eyes to serious conditions such as paralysis, coma, and in serious cases, death. Controlling pest populations in your home is essential to keeping you and your family safe and healthy. It is important to survey your house for evidence of pests, repair and control locations where pests can enter and live in your home, and potentially hire a pest control professional to do pre or post-infestation mitigation and control. Click the header above to learn more about animal related diseases and pest control.
Household Toxins
Homes are full of toxic substances, including chemical products, medication, alcohol, marijuana, and other substances. Proper storage and disposal of these products is essential to keeping you, your family, your pets, and your community healthy.
If you or someone in your home has ingested a potentially hazardous/poisonous substance, call the toll-free Poison Help Line at 1-800-222-1222.
It is important to store chemical products such as cleansers, paint, stain, fertilizer, pesticides, solvents, fuel, etc. in locations where they not accessible to children and pets and where they do not have the potential to contaminate consumable products like food and water. Store these products in cabinets that lock or are up high, and do not store food or beverages next to them. Always use these products according to the instructions on their labels and in well ventilated areas.
Safe storage of alcohol and marijuana is important to protect the health of kids and pets. Store these products in locations where they are not easily accessible, such as up high or in locked containers. Do not store marijuana edibles next to normal food products, make sure they are clearly labeled, and make sure they are stored in a safe, not easily accessible location. For more information about safe marijuana storage, visit the State of Colorado page.
Click here for information about how to properly store and dispose of medication.
Proper disposal of hazardous household products is important to protect your community and the environment you live in. The Country Ace Hardware in Granby, the Fraser Valley Ace Hardware, and the Sherwin-Williams in Granby accept unwanted paint, stain, and other painting products. The stores have strict requirements about what kind of products and quantities they will accept, so please contact the store for more information.
The Summit County Resource Allocation park (SCRAP), located at 722 Landfill Rd, Dillon, CO 80435 accepts a wider range of hazardous household waste, including paint, stain, fertilizer, pesticides, cleansers, solvents, flammable liquids, and electronic waste. Please call (970) 668-4290 (ext. 0) for more information about what products SCRAP accepts and drop-off times.